Please note that we take the health and safety of our Science Engagement Programs community very seriously. Towards that end and under the guidance of the University, we regret to inform you that we must cancel this year's in-person summer programs.

Full statement here: bit.ly/SU2020Statement

We are excited to offer online programs for students in grade 3 to 12! For more information about the Online Summer Programs or to sign up for our Newsletter, click below.

We hope that you and your family remain safe and healthy during this period and hope to see you soon.

If you have any questions or concerns about the program, please email us at helix@yorku.ca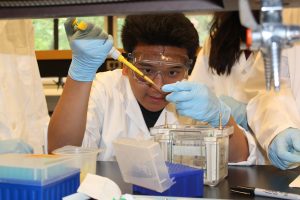 York University's Spark Lab Programs are week-long sessions designed for students in grades 9 to 12 who want more hands-on science. Using experiment-based learning, students explore physics, biology, chemistry and coding through lab work. Escape the traditional classroom and learn science by doing science.
The Spark Lab Program is an open-enrollment program and is on a first-come-first-served basis. Registration can be completed online and a residence option is also available.
Summer 2020 Sessions
Forensic Science

Introduction to Genetics

Introduction to Programming Languages

Laboratory Fundamentals

Reactive Chemistry
Animal Physiology

Digital Hardware: Design and Development


Introduction to Neuroscience

Laboratory Techniques

Mathematical Computation

Testing with Titrations
Frequently Asked Questions
All registration is to be completed online using our online system. Your spot will be reserved upon receipt of payment.
4-day weeks: $365 per week per participant
5-day weeks: $425 per week per participant
Note: All fees are in Canadian Dollars and include HST.

Please note that we encourage participants to leave all electronic game devices at home, as we are not responsible if they are lost. If your child carries a cell phone with them, we ask that it be put on vibrate during session hours.
Science Engagement Programs offers a financial assistance program to help offset some of the tuition cost of our program, so that all students can attend. Financial Assistance does not include our Residence Program. For more information, please click on the appropriate links or email helix@yorku.ca.

BURSARY POLICY      BURSARY APPLICATION FORM
Bursary application deadline for Helix and Spark Lab: April 15, 2020.
Cancellations made 21 calendar days prior to the start of the program are eligible for a full refund, minus a $120 administration fee per child, per course. 50% refund per week of residence. Refunds will be given upon written notice of cancellation. No refunds will be made after the 21 calendar day deadline. No refunds will be given for days when a participant is absent and missed days cannot be made up.
Spark Lab students will have the opportunity to stay at one of York University's campus residences.
Visit our Residence webpage for more information: helix.science.yorku.ca/residence